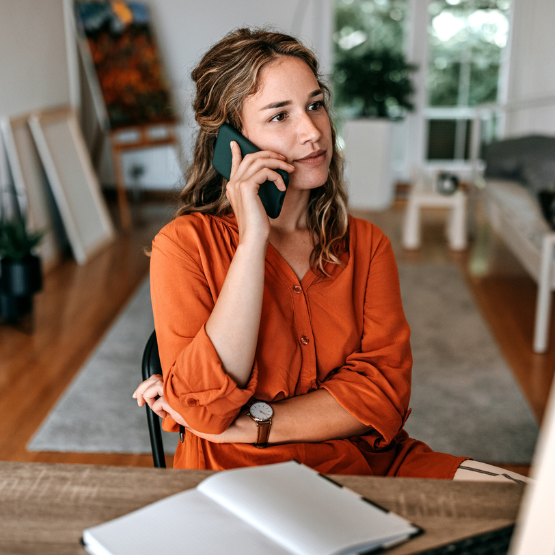 Fraud Center
North State Bank monitors debit card activity with Fraud Center. Using advanced technology to review debit card transactions in near real-time, Fraud Center will contact you immediately if a suspicious transaction occurs. To make sure we can reach you quickly and easily, take a moment to confirm your mobile number and email address with your local North State Bank office.
How It Works:
First, Fraud Center will send an email notification to the primary cardholder. The email will prompt you to reply "fraud" or "no fraud" to let us know if the transaction was authorized.
Next, if you do not respond to the email within one minute, Fraud Center will send a text message to the mobile number we have on file. The text will prompt you to reply "fraud" or "no fraud" to let us know if the transaction was authorized.
Then, if Fraud Center doesn't receive a response to the email or text, you will receive an automated phone call prompting you to confirm or deny if the suspicious transaction was fraudulent. During this call, you will have the option to speak with a fraud analyst.

Fraud Center will repeat these attempts to reach you until the possible fraud has been confirmed or denied. In some instances, your card will be blocked for use until Fraud Center receives your response. Fraud Center messages will not ask for your PIN or account number. Never give your account number or PIN out via text message or email.
---
Visa Alerts

Receive near real-time updates about your North State Bank Visa® debit card activity with Visa Alerts. This service is offered free of charge to all debit card users and is customizable based on your preferences. You can select alerts for any or all of the following:
Purchases over a specified amount—for example, $50 or above.




Card absent transactions such as payments made by phone or online.




Card activity outside of the United States.

Each alert contains purchase information, including the amount, merchant name and location (if available) and the last four digits of the debit card number. Plus, you can select the communication style that best meets your needs, choosing from:


Text messages
Emails
Or both for extra security and convenience
Card usage time vs. when you receive the alert is dependent on wireless service and coverage within the area. Alerts service may not be available in all areas. Gasoline alerts may not include purchase amount. Account activity qualifying for Alerts service may vary by issuer. Additional restrictions apply.
Monitor and Protect Your Information

When it comes to fraud, the best defense is often a good offense. Below are simple steps you can take to protect and monitor your data.
Check your credit reports from Equifax, Experian and TransUnion for free by visiting
annualcreditreport.com
. Accounts or activity that you don't recognize could indicate identity theft. 
Consider placing a credit freeze on your files. A credit freeze makes it harder for someone to open a new account in your name. Keep in mind that a credit freeze won't prevent a thief from making charges to your existing accounts.
If you suspect fraud, consider placing a fraud alert on your credit files. A fraud alert warns creditors that you may be an identity theft victim and they should take extra precautions when issuing credit to someone in your name. 
Monitor Bank Accounts and Credit Cards Regularly
Monitor your existing bank accounts and credit cards closely for charges you don't recognize. Your North State Bank account can be securely accessed 24/7 via
Online and Mobile Banking
. 
File your taxes as soon as you have the tax information you need, before a scammer can. Tax identity theft happens when someone uses your Social Security number to get a tax refund or a job. Respond right away to letters from the IRS.