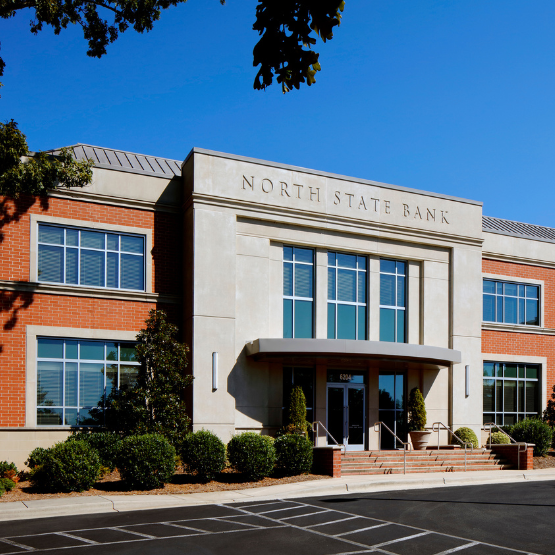 Welcome to North State Bank
 We welcomed our first customers on June 1, 2000, determining then that we would serve our customers at a high level, in particular, customers we could uniquely serve better than other banks. With that mindset, we have not limited ourselves to anyone's idea of what a community bank should be or do. 
Who is North State Bank?
A Community Bank
First and foremost, we are a community bank. We are headquartered in Raleigh, North Carolina, the state's capital city, located in Wake County. Raleigh, Wake County, and the Triangle are among the top markets in our country for quality of life and for businesses. North State Bank has seven full-service banking offices in Wake and New Hanover counties, including Downtown Raleigh, Garner, North Hills, North Raleigh, West Raleigh, Wake Forest and Wilmington. All offices are led by market presidents who know their areas, know banking and know how to get things done.
A Mortgage Lender 
Our Mortgage division serves the home buying and refinancing needs of customers. Supported by a team of mortgage operations professionals and the commitment of some of the top mortgage professionals in the state, our lenders make things happen. This website includes an up-to-date list of areas served and contact information for our lenders.
A Bank for Community Association Management Companies
Through CommunityPLUS, we serve the banking needs of community association management companies. Starting at home in Raleigh, North Carolina, they gained recognition and prominence in the industry and now serve customers across the state and across the nation.
A Preferred SBA Lender
Our SBA & USDA Lending division funds loans for owner-operated businesses nationwide through a dedicated team of professionals and has gained preferred lender status. Through partnership with the Small Business Administration (SBA), we have greater flexibility when considering a borrower's risk profile and can offer loans from $100,000 to $5 million with excellent terms.
A Partner to the Community
As a community bank, we believe giving back to our communities in meaningful ways is important. Nowhere is that commitment more evident than in our sponsorship of Summer Salute or as we say: having fun while raising funds for a great cause. Since 2004, this event has provided over $1.9 million to Transitions LifeCare. The funds ensure that everyone, regardless of financial means, receives the care and dignity they deserve at life's end.
---
Our Core Values
Many companies talk about their core values. We live ours. Every day. These core values were determined by our management team and staff before we ever opened our doors to our first customer. They have never changed.
Integrity
Always being worthy of the trust placed in us.
Hard Work
Being responsible, committed and passionate about our work.
Fairness
Always striving to do what is right for our shareholders, customers and fellow employees.
Teamwork
Forsaking selfish ambition for the common good.
Consistency
Staying focused on who we are and what we do best.