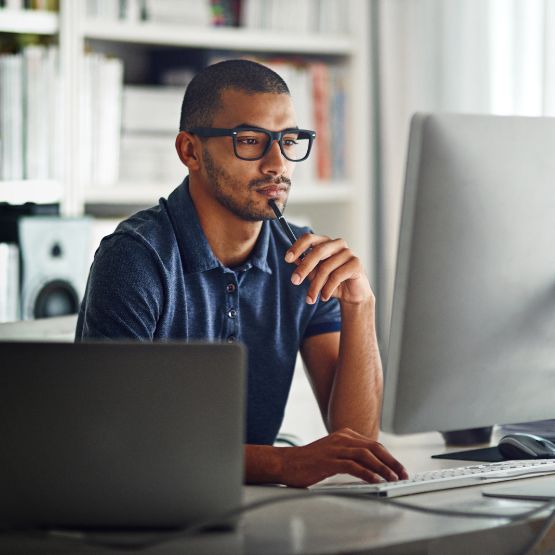 My Credit with ID Protect
Monitor your credit and help protect your personal information from the convenience of North State Bank's Online and Mobile Banking.
My Credit Manager
With this tool, you have on-demand access to view your credit report and the factors impacting it. It includes: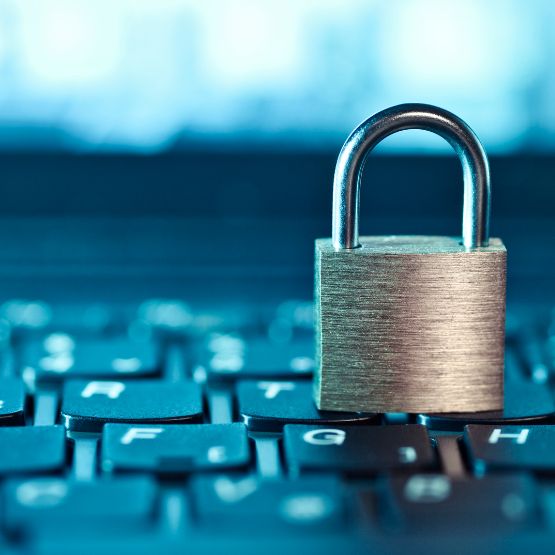 Safeguard Your Personal Data 
ID Protect
This service monitors the web for activity using your personal information and alerts you when your ID is compromised. In the case of a compromise, this tool provides optional services to help re-secure your information. 
How to Enroll
My Credit Manager and ID Protect is offered as a part of North State Bank's Online and Mobile Banking for customers with a personal checking account at no charge. Enrolling is quick and easy: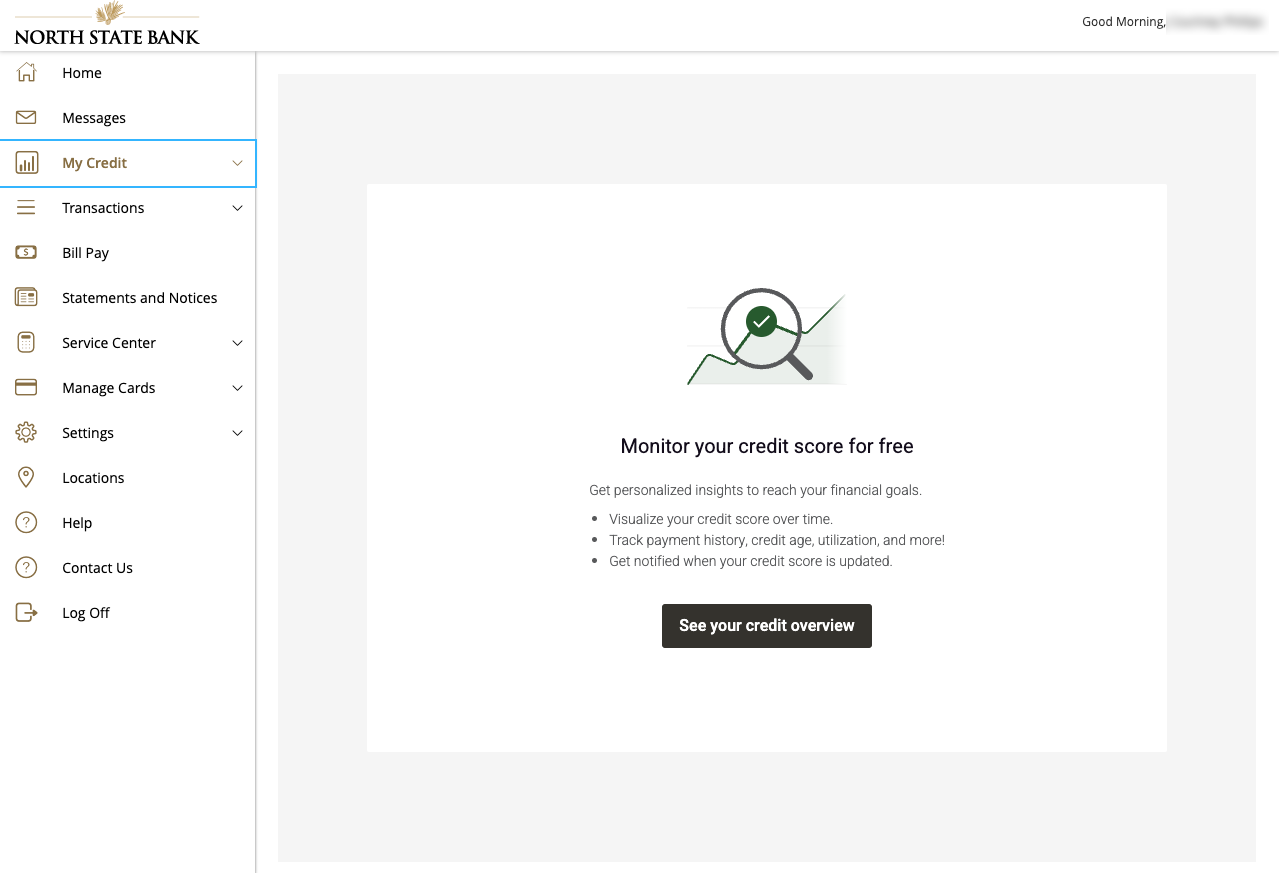 Step 3: Verify your identity.
For most customers, this information will be pre-filled. If it is not, input the requested information.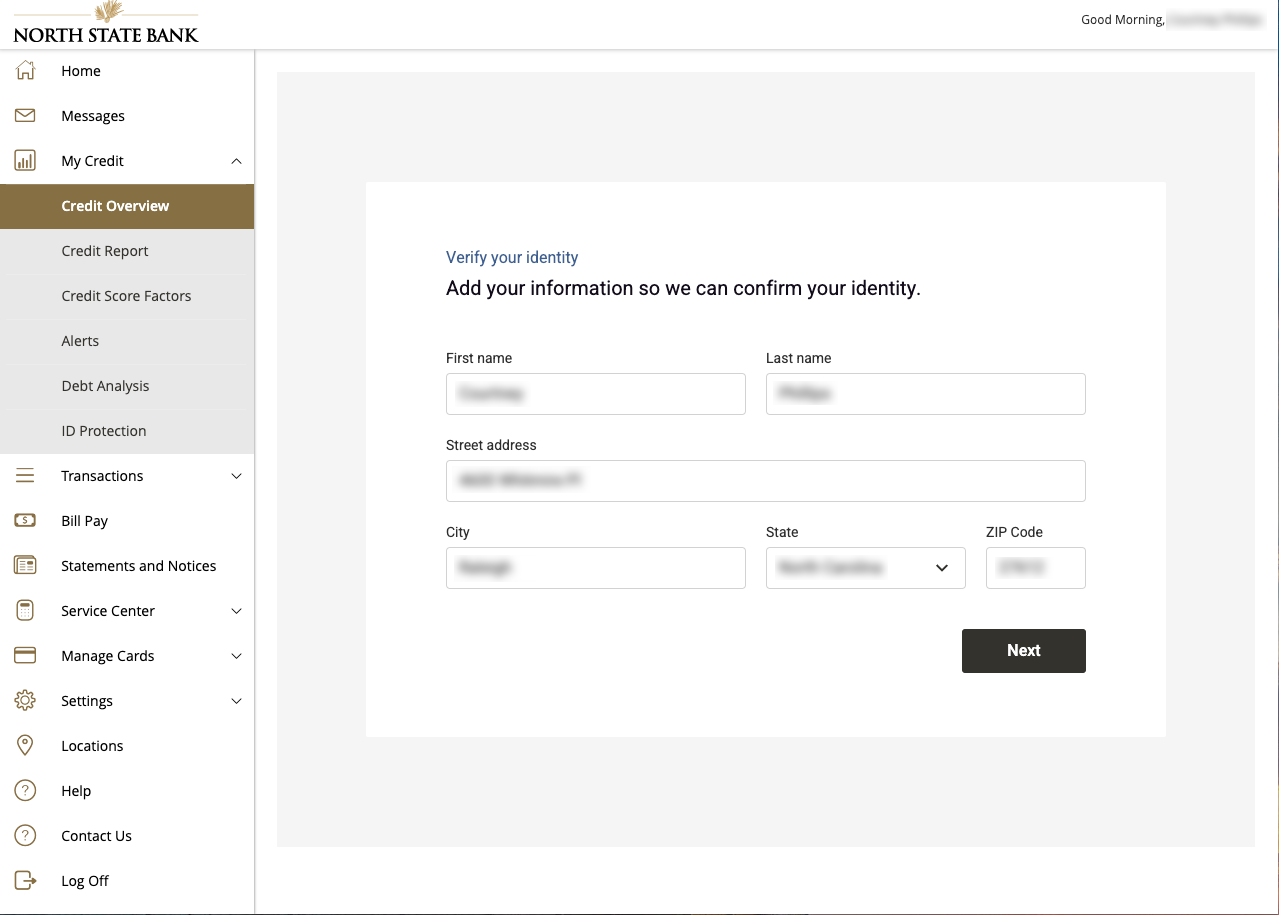 Step 4:

Review and respond to the identity verification questions.
Note: Take care when responding to the questions. The questions are generated by the credit bureau and not North State Bank. If they are answered incorrectly multiple times, the credit bureau will lock your enrollment process for 5-7 days. North State Bank is not permitted to unlock the enrollment. You can complete the enrollment steps again once the 5-7 lockout period is complete.


Step 5: Enrollment is complete!
It may take 2-5 minutes for your information to populate for the first time as it is being connected to the credit bureau.
Take a few minutes to look through each navigation item under My Credit, including Credit Overview, Credit Report, Credit Score Factors, Alerts, Debt Analysis and ID Protect. To full take advantage of the ID Protect features, we recommend completing as many fields as are relevant to you in the Monitored Information section.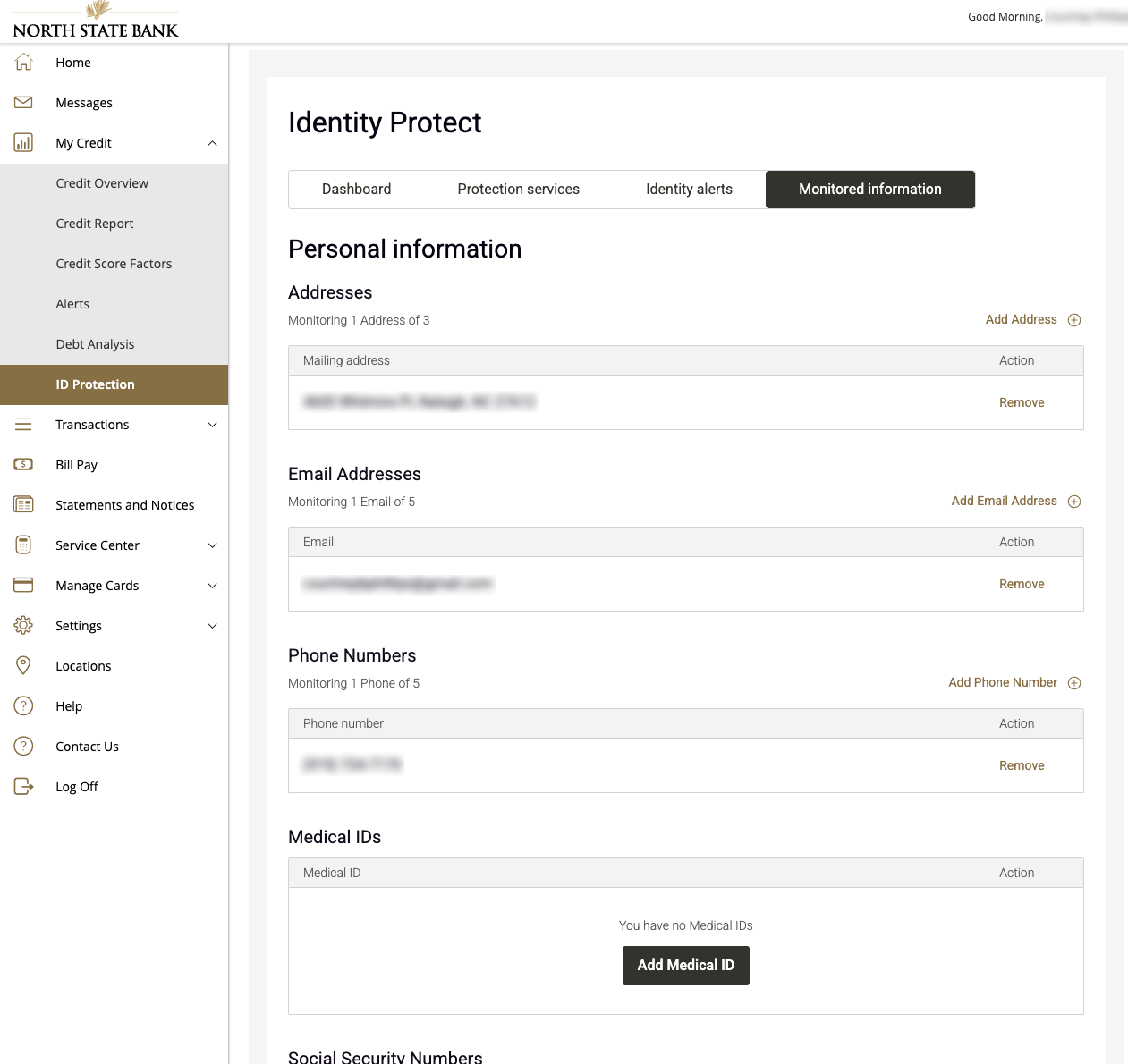 Commonly Asked Questions
How do I dispute and correct inaccurate information in my credit report?
If you discover information on your credit report that you believe is inaccurate, you can take the
following steps to dispute and hopefully correct the information.

Highlight the errors on your credit report
Gather supporting documents that show your side of the story; for example, receipts or
bank records showing that you made a payment on time that's recorded as late or
delinquent.
Submit the information to the bureaus with a brief explanation (100 words or less).
You may find that some companies have forms on their websites that you can use.
You can also submit your information directly to the reporting lender.

After you submit your claim, you may need to wait 30 to 45 days before it's resolved and the
corrected information appears on your credit report. Note, however, that if the inquiry confirms
that the information is accurate, the bureau or lender won't change it.

If you still have questions after your claim is rejected and want to pursue your dispute further,
you can file a complaint against a bureau or lender with the Consumer Financial Protection
Bureau or with the Attorney General of your state.
I have frozen my credit. Can I still use My Credit with ID Protect?
Yes, freezing your credit before or after enrolling will not impact the ability to use My Credit with ID Protect.
Why is your score different from others I see, such as Credit
Karma or other banking apps?
Each of the three credit bureaus (Equifax, Experian, and TransUnion) uses a different model to
calculate a credit score and each gathers data independently. The credit bureaus pull your information from many different sources (such as lenders, collections, court records) at different times, there will always be discrepancies at any particular time between the reports from each credit bureau. The financial institutions and companies that provide your credit score use different methods. Some rely on FICO® Score and some rely on VantageScore. Even between those two
companies, there are credit scores based on reports from one bureau, two bureaus, or all three
bureaus.
How secure is my credit data? Does anyone else, such as portal
admins, have access to any of my information?


Your credit data is fully encrypted and secure. No one has access to your information.
How frequently is my overall credit score updated?
Your credit score is updated completely every 30 to 45 days.
How long does it take before a late payment stops impacting my score?

Late payments will stay on your record for seven years. You can dispute a late payment report that you believe is in error; however, you must provide proof, such as documentation, that you made the payment on time. However, if the information is accurate, you must wait seven years before it clears.
How many total credit card accounts is too many accounts?
There's no set number of credit accounts that's optimal or suboptimal. Having multiple credit
card accounts can help you maintain a good debt to credit ratio, but having too much debt
spread across multiple accounts can have a negative impact.
Is there a fee for this service? 
My Credit with ID Protect is included in North State Bank's Online and Mobile Banking for customers with a personal checking account at no charge.
I have a joint account. Can both accountholders use My Credit with ID Protect?
Each accountholder enrolled in Online Banking can access My Credit with ID Protect. Remember, never share Online Banking account access with another accountholder, such as a spouse. Each accountholder needs their own unique user ID and password.