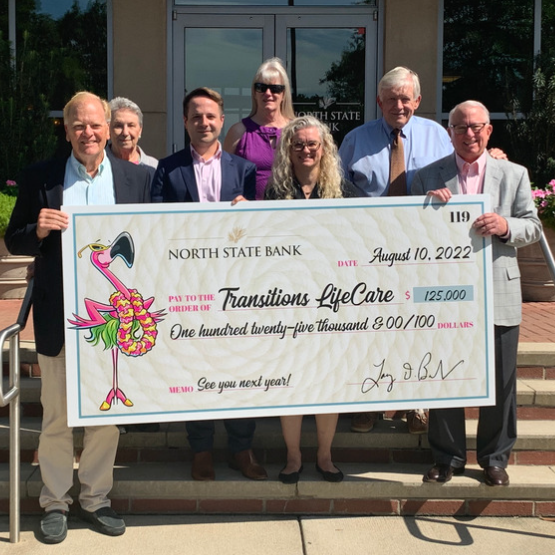 North State Presents $125,000 to Transitions LifeCare
August 22, 2022
For more information, contact:
Sondra Collins
Senior Vice President, Mortgage Community Outreach Officer, North State Bank
919.645.4983; 
SCollins@NorthStateBank.com
North State Bank's Summer Salute presents $125,000 to transitions LifeCare
On Wednesday, August 10, representatives of Summer Salute presented a check for $125,000 to the Transitions LifeCare team, adding to the event's more than $2 million lifetime donation.
RALEIGH, NC . . . On behalf of the Summer Salute for Transitions LifeCare Planning Committee, North State Bank President and CEO Larry D. Barbour, joined by Summer Salute co-chair Jim Branch, presented a check for $125,000 to Dr. Laura Patel, CEO and chief medical officer for Transitions LifeCare on Wednesday, August 10, 2022. After two years of virtual fundraising, this year's in-person event, including sponsorships, ticket sales, raffles, auctions, and donations, brought Summer Salute's lifetime donation to more than $2.16 million. Funds provide financial support to ensure every individual who requires hospice and palliative care receives the quality of life he or she wants when facing a serious illness or near life's end. 
"Following two years of virtual events, we did not know how people would respond to a fun in-person event but, they responded!" said Sondra Collins, event co-chair and senior vice president and mortgage community outreach officer for North State Bank, who was unable to attend the check presentation. "We had a wonderful turnout of people who enjoyed great food, music, and dancing for a special cause. The Summer Fun Raffle tickets sold out and we had great success with our online and live auctions."
In addition to North State Bank, top event sponsors, both monetary and in-kind, included: Diane & Larry Barbour; Darleen Johns & Larry Mackel; Ginny & Fred Smith; Caddell Phillips Marketing; Comfort Monster Heating & Air; Fink's Jewelers at North Hills; Brenda & Ron Gibson; One 27 Homes by Jaclyn & Reid Smith; PPM, Inc.; Reaton Homes, LLC; Virginia Watson; WakeMed; and Wilson Property Management.
On receiving the funds, Dr. Patel said, "What a great partnership Transitions LifeCare shares with North State Bank! Summer Salute not only raises funds that help those in need but continually spreads the word about who we are and what we do. This event helps us to build friendships in the community that add to our own outreach. It is with deep appreciation I accept this check from Summer Salute on behalf of the Transitions LifeCare team and the hundreds of patients and families who will benefit from this generosity." 
Approaching its 20th anniversary year in 2023, Summer Salute planning is already in full swing. Mark your calendars for another memorable Summer Salute, scheduled for Saturday evening, June 3, at Raleigh's North Ridge Country Club, featuring The Embers, North Carolina's premiere beach band.