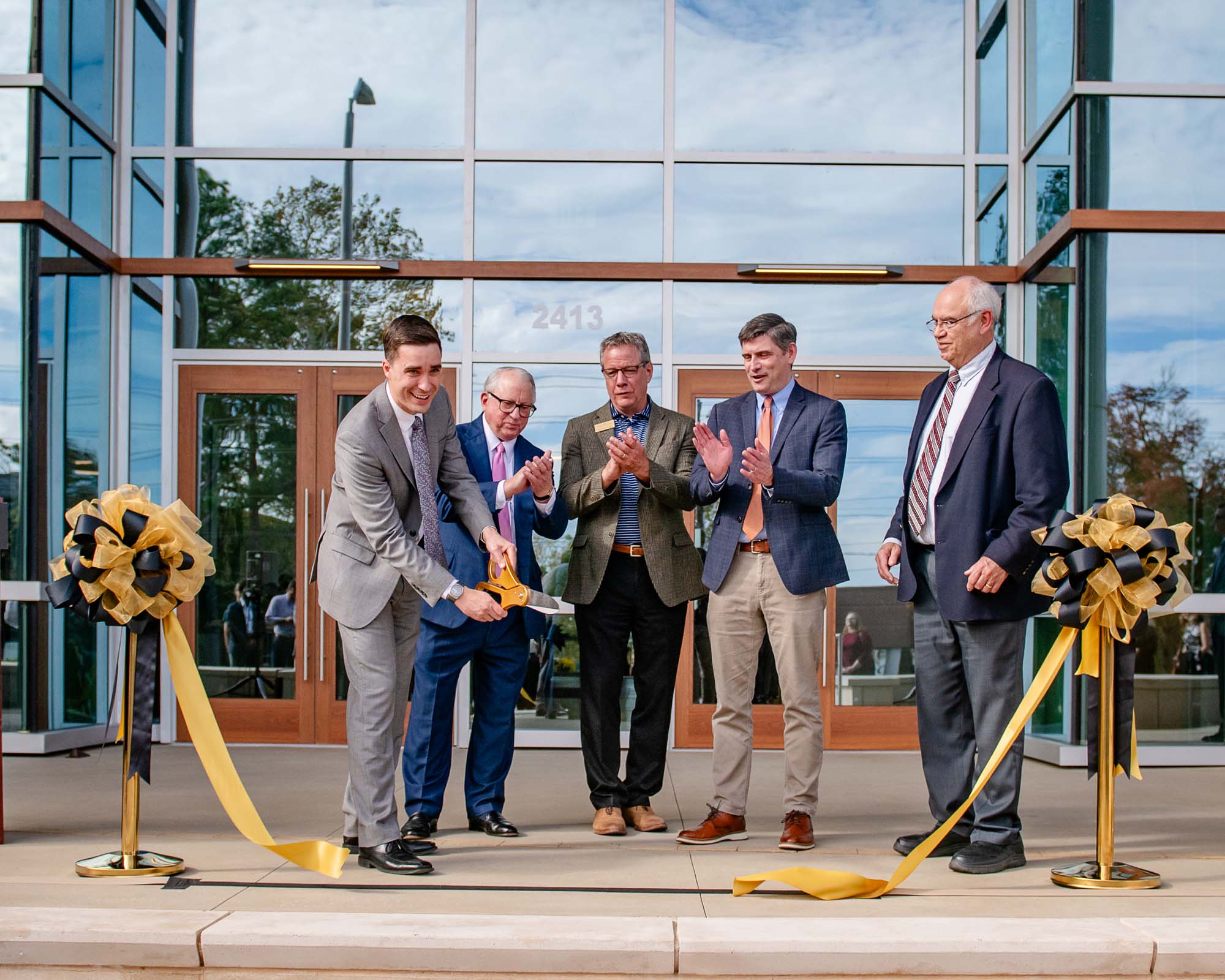 North State Bank Celebrates Opening of Its New West Raleigh Office Building
November 15, 2023
For more information, contact:
Jonathan N. Krieps
Executive Vice President and Chief Operations Officer
JKrieps@NorthStateBank.com; 919.855.9925
RALEIGH, N.C. . . . North State Bank celebrated the completion of its new West Raleigh office building with a ribbon cutting ceremony, followed by an open house and luncheon, announced President and CEO Larry D. Barbour. The new 31,000-square-foot building is located at 2413 Blue Ridge Road, the site of the Bank's former office, which opened in 2004.
Barbour shared, "When we started this process over two years ago, we did so with the intention to elevate. Elevate our presence in West Raleigh, elevate the momentum building with the Blue Ridge Corridor, and, most importantly, elevate our service to our customers and the community. Quite simply, this is a place for our people to serve others and add value to their lives and businesses. When customers choose North State, they are getting a bank that will be here for the long haul and the opening of this iconic building reflects that commitment."
West Raleigh Market President Harryson Turner shared, "Many thanks to the West Raleigh team members and customers who worked with us through the construction process—I think we can all agree, it was worth the wait. I am delighted to welcome customers to our new space and lead the way as North State Bank grows our relationships along the Blue Ridge Corridor."  
Construction on the building began in late 2021. Vendors/partners for the project include New City Design (architect), JAECO (consulting engineer), J.D. Beam (contractor), Scalene Design (structural engineer), Bristow Landscaping (landscape design & implementation), Gallivan Site Contractor (excavating & grading), WACO (plumbing & electrical) and BDB Interior Design (interior design).
The building includes a full-service banking office on the lower level with a drive-thru and ATM. There are 21,000 square feet of leasable office space between the first and second floors, designed to accommodate three to five tenants. The building architecture was inspired by the North Carolina Museum of Art, as well as other nearby structures. The modern design includes clean lines, expansive windows, integrated information technology systems, and natural building materials such as wood and stone. One of the building's most prominent features is its expansive patio, which reaches out toward Blue Ridge Road, symbolic of the Bank's invitation to serve and be a part of the community.
Founded in 2000, North State Bank is an independent, full-service community bank serving Wake and New Hanover counties through seven offices and through areas focused on government lending, including SBA; leasing; and mortgage, and serves the community management association industry through CommunityPLUS.
###
NorthStateBank.com
This news release may contain forward-looking statements. Actual results might differ materially from those projected in the forward-looking statements for various reasons, including our ability to manage growth, changes in real estate values and the real estate market, regulatory changes and increased deposit insurance assessments, economic conditions, changes in interest rates, substantial changes in financial markets, loss of deposits and loan demand to other savings and financial institutions and our limited operating history.