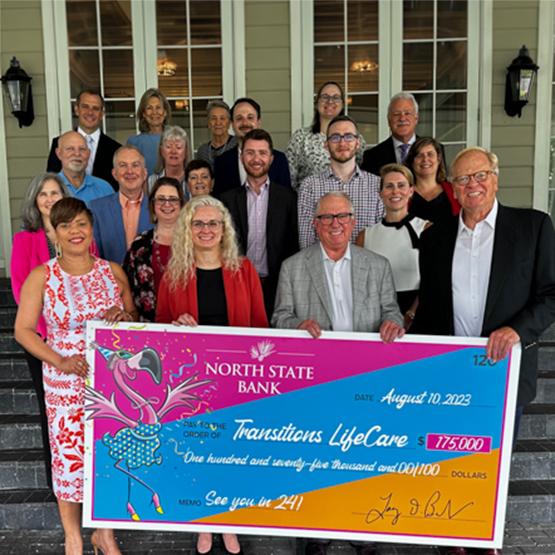 North State Bank's Summer Salute 2023 Presents $175,000 to Transitions LifeCare
August 22, 2023
For more information, contact: Sondra Collins
Senior Vice President, Mortgage Community Outreach Officer, North State Bank
919.645.4983; SCollins@NorthStateBank.com
RALEIGH, NC . . . On behalf of North State Bank and the Summer Salute for Transitions LifeCare Planning Committee, President and CEO Larry D. Barbour, joined by Summer Salute co-chairs Jim Branch and Sondra Collins, presented a check for $175,000 to Dr. Laura Patel, CEO and chief medical officer for Transitions LifeCare on August 10, 2023. Celebrating its 20th anniversary, this year's event, through sponsorships, ticket sales, raffles, auctions, and donations, brought the event's lifetime donation to more than $2.3 million. Funds provide financial support to ensure every individual who requires hospice and palliative care receives the quality of life he or she wants when facing a serious illness or near life's end. 
At a celebration during which the check was presented, Mr. Barbour said, "It is part of North State Bank's culture to treat everyone with dignity and respect and it is Transitions Lifecare's mission to help people leave this earth with dignity and respect. On this solid match of culture and mission rests the 20-year success of Summer Salute. I commend the Summer Salute committee for their passion and hard work, the fruits of which are immeasurable."
"I echo Larry's comments," Dr. Patel said. "And we extend dignity and respect, not only to our patients, but to their families and friends, as well, during their time with us and following the loss of their loved one. The funds raised by this dedicated committee and through the support of committed sponsors help assure care and support are available to everyone. A big thank you to North State Bank and to the Summer Salute committee for their hard work this year and for the past two decades."
Seven committee members were recognized for serving on the event's planning committee since inception: Larry Barbour, Susan Caddell, Diane Garner, Susie Peoples, Gail Perry, Sandra Temple, and Virginia Watson.
In addition to North State Bank, top event sponsors, both monetary and in-kind, included: Diane & Larry Barbour; Ginny & Fred Smith; Jaclyn & Reid Smith; Caddell Phillips Marketing; CINC Systems; Comfort Monster Heating & Air; PPM, Inc.; Storr Office Environments; WakeMed; and Virginia Watson.
While Summer 2023 is coming to a close, plans are already underway to create another memorable Summer Salute in 2024. The date is set for Saturday evening, June 1, 2024, at Raleigh's North Ridge Country Club, featuring North Carolina's premiere beach band: The Embers with Craig Woolard.
 ###
North State Bank (NorthStateBank.com and SummerSalute.com) Founded in 2000, North State Bank is a full-service community bank serving Wake and New Hanover counties through seven full-service offices.
Transitions LifeCare (TransitionsLifeCare.org) Transitions LifeCare is the leading provider of hospice and palliative care in Wake County and the surrounding area.